Commercial Devices
Commercial devices are those used in channels of trade to determine a value based on weight, measure, or count. It is the duty of the County Sealer to assure an equitable marketplace where the accuracy and appropriate use of such devices is sustained. County Sealers test the performance of commercial devices using standards that are traceable to world standards.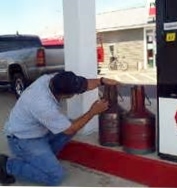 Weights and Measures Officials inspect and test various types of weighing and measuring devices including; gasoline dispensers, propane/butane meters, taxi meters, pharmacy scales, deli counter scales, livestock and animal scales, truck scales, ect. Officials inspect approximately 282,000 such devices in California each year. An explanation of device registration fees is located here.
Quantity Control/Package Inspection
Whenever a specific volume of consumer goods is placed in a container or packaged, its net content is required to be stated on the package label. Sealers inspect the net content of packaged goods to determine if the proper weight, measure, or count is being used at wholesale as well as in retail sales. Sealers also "test purchases" to verify that consumers are charged accurately and correctly.
Petroleum Products
The petroleum program in California consists of State and local Weights and Measures inspectors working together. Locally, weights & measures officials enforce that portion of the California Business and Professions code relating to petroleum product standards. Test samples are taken periodically, due to consumer complaints or routine audits, in order to verify compliance with quality standards established by the American Society for Testing and Materials (ASTM) and the Society of Automotive Engineers. Labeling regulations are also strictly enforced to provide product identity and information to the buyer and seller. This includes price sign advertising, making sure no deceptive, false or misleading statements are being advertised, posting the product brand, grade, name, octane ratings to dispensers, ensuring that price advertising signs and pump dispenser prices agree, free air and water to those customers who purchase motor fuel, service to disable drivers and proper labels attached to underground storage tanks to prevent commingling of products.
Weighmaster
Virtually all of commerce is dependent upon the functions of weighmasters. Weighmasters are persons licensed by the Division of Measurement Standards (DMS) to certify the weighed, measured or counted quantity of any commodity whenever both parties to the transaction are not present at the time that quantity is determined. Weighmasters issue certificates as a record indicating the amount, as well as how and where the quantity was determined. These "weighmaster certificates" are recognized as legal documentation of the quantities determined and indicated thereon. Sealers conduct audit inspections of thousands of weighmaster records to verify correctness and completeness of the required information. Compliance with established weighmaster procedures is determined from these audit inspections.
Service Agents
Each Company and person who sells, rents, installs, services, or repairs commercial weighing and measuring devices is required to be licensed with DMS as a Service Agency (company) or Service Agent (person). Licensing requirements of Service Agents help to maintain the integrity of the service/repair industry. Agencies/agents must report their work to County Sealers. County Sealers review the work of service agents, thus validating their accuracy and verifying the appropriate use of devices.