Tehama County Solid Waste Management Agency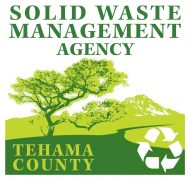 Welcome
The Agency strives to provide information related to Tehama County's solid waste programs, plans, elements and progress towards reducing the amount of waste entering the landfill, and conserving natural resources while protecting human health and the environment.
NOTICE IS HEREBY GIVEN that sealed standard Proposals for the Tehama County/Red Bluff Landfill Household Hazardous Waste (HHW) Facility Paving Improvements will be received at the Tehama County Solid Waste Management Agency Office at 20000 Plymire Road, Red Bluff, CA 96080 from BIDDERS, until 2:00 p.m. on Friday, July 14, 2023.
Click the link below to view the Bid Documents.