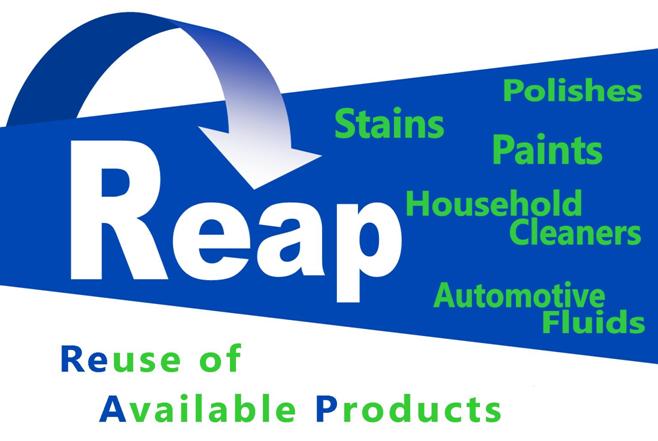 Reuse of Available Products Facility (REAP)
Consumers tend to over-purchase cleaning products and paints, leading to large volumes of leftover material that is expensive to manage and dispose of. In fact, over $100,000 is spent annually in Tehama County alone managing household hazardous waste (HHW) received from the public. Much of this HHW is not in fact waste, but products in good condition that can easily be reused.
​The Tehama County Solid Waste Management Agency (Agency) is providing public access to these unwanted, usable products for reuse through the REAP program, which stands for REuse of Available Products. The REAP Program is beneficial to both the public and the Agency. It reduces fees the Agency has to pay to properly dispose of the discarded household hazardous waste materials. In utilizing this facility, the public is helping to keep materials out of a Hazardous Waste Landfill elsewhere. Various types of materials are available to the public FREE of charge including:
​Latex Paint (interior and exterior)

Household Cleaners (window cleaner, degreasers, bathroom and kitchen cleaner, etc.)

Automotive Fluids (oil for large and small engines, antifreeze, engine cleaners, etc.)

Pesticides

Herbicides

Adhesives

Stains

Detergents

Fertilizers

Disinfectants

And More!
​​
All products are in original containers with original labeling intact. Product inventory fluctuates allowing various material types to be available. Please check out our permanent REAP Facility before buying new products. We can save you money!
​Please note, the REAP program does not accept Household Hazardous Waste (HHW) for collection. HHW is accepted at two HHW facilities in Tehama County on select days. Follow this link for more information regarding Household Hazardous Waste. For HHW collection days visit our Upcoming Events page.
​The Agency's Permanent Reuse Facility is open to the public at the Tehama County Solid Waste Management Agency office located at 20000 Plymire Rd.