Disposal in Tehama County
Out-of-county waste is not accepted at the Tehama County/Red Bluff Landfill.
There are two options for managing trash, recycling and yard waste in Tehama County.
Subscribe to a trash collection service provider. Locate your garbage and recycling company. Please note: yard waste collection services are for residents only.
Self-Haul your trash, recyclables and yard waste to the Landfill. See Self-Haul Tips, Landfill Acceptance Policy, and Landfill Fees.
Divert your food waste from your trash by starting a backyard compost pile. View our page on backyard composting to get started.
Here in Tehama County, disposal is the last resort!
Remember the 4Rs:
Reduce →
2. Reuse →
3. Recycle →
4. RePurchase recycled content products! When you buy products made with recycled content, you support recycling markets and save resources.
DID YOU KNOW?
Have you noticed that the 4Rs are in order, with Reduce listed first? Preventing waste from being created in the first place is the most effective waste management option. How can you reduce waste today?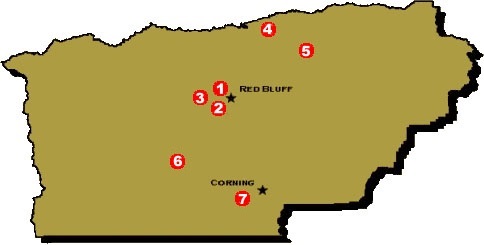 Waste Facilities in Tehama County
1. Tehama County/Red Bluff Sanitary Landfill 19995 Plymire Rd., Red Bluff: Monday-Friday 8:00AM – 4:30PM, Saturday-Sunday 8:00AM-2:30PM
2. Material Recovery Facility 19995 Plymire Rd., Red Bluff: Monday-Friday 8:00AM – 4:30PM, Saturday-Sunday 8:00AM – 2:30PM
3. Household Hazardous Waste Facility 19995 Plymire Rd., Red Bluff: See Upcoming Events for operation dates and hours
4. Manton Transfer Station Hazen Rd., Manton: Hours vary by season. Call (530) 528-8500 for more information
5. Payne's Creek Transfer Station Plum Cr Rd, near Hwy 36: Hours vary by season. Call (530) 528-8500 for more information
6. Rancho Tehama Transfer Station Stage Coach Rd, Rancho Tehama: Hours vary by season. Call (530) 585-2444 for more information. Available to Rancho Tehama residents only
7. Corning Household Hazardous Waste Facility 3281 Highway 99W, Corning: See Upcoming Events for operation dates and hours