Mission Statement
The Tehama County Elections Department is here to protect and promote public trust and confidence by providing an exemplary level of professional, courteous, efficient service. To ensure the highest possible degree of integrity for the County's election process through the administration of all federal, state, local and special election laws in a uniform and consistent manner.
Statement of permissible uses of personal information
Information on your voter registration affidavit will be used by elections officials to send you official information on the voting process, such as the location of your polling place and the issues and candidates that will appear on the ballot. Commercial use of voter registration information is prohibited by law and is a misdemeanor. Voter information may be provided to a candidate for office, a ballot measure committee, or other persons for election, scholarly, journalistic, political, or governmental purposes, as determined by the Secretary of the State. Driver's license and social security numbers, or your signature as shown on your voter registration card, cannot be released for these purposes. If you have any questions about the use of voter information or wish to report suspected misuse of such information, please call the Secretary of State's Voter Protection and Assistance Hotline. 1-800-345-VOTE (8683) Certain voters facing life-threatening situations may qualify for confidential voter status. For more information, please contact Secretary of State's Safe At Home program or visit the Secretary of State's Web site.
Local Election Information:
Instructions to Vote a Federal Write-In Absentee Ballot
Past Election Results:
Useful Links:
Official Court Reporters
This email address is being protected from spambots. You need JavaScript enabled to view it.

, CSR 11549


This email address is being protected from spambots. You need JavaScript enabled to view it.

, CSR 13290

P.O. Box 711
Red Bluff, CA 96080

(530) 527-5648
Fax (530) 527-8030
Office Hours - 8 a.m. through 5 p.m.
Monday through Friday
Official Court Reporters for Tehama County Superior Courts provide a record of all court proceedings in felony criminal, juvenile cases as provided by statute and/or local rule, and in family law and civil cases other than small claims and traffic matters. Feel free to contact our office if you wish to have a matter reported which would otherwise not have a reporter present; arrangements can be made to have a reporter present.
The Official Reporters provide both Computer-Aided Transcription (CAT) and Real-time Reporting services.
Frequently Asked Questions:
How may I obtain a transcript of court proceedings?
Attorneys or private citizens who wish to purchase a verbatim written record of court proceedings may purchase a transcript from the Court Reporter who reported the proceedings. You may contact the Court Reporter directly by e-mail, by calling the Court Reporters Office or by filling out a Transcript Order Request available at the Clerk's Office.
The following information will be needed: date of hearing, case number and name, name of judge or courtroom in which the hearing was held. Please specify if you are requesting the entire hearing transcript, just the Order of the Judge, or the specific portion of the hearing you need.
Transcripts are purchased on a per-page basis (folios), as governed by Government Code 69950. The Court Reporter will contact you with an estimate of the cost of the requested transcript. The Reporter will not begin preparation of the transcript until full payment has been received. Any over-estimate amount will be refunded to the paying party.
The Tehama County Superior Court employs licensed pro tempore reporters on a regular basis. If the name of the Court Reporter who reported the hearing in not listed on this website, please contact our office at (530) 527-5648 and your request will be forwarded to the appropriate pro tem reporter. Please include a telephone number where the court reporter may contact you.
Who do I contact regarding pro tem court reporter work?
If you are a licensed California Certified Shorthand Reporter, call or e-mail one of the Official Reporters listed above. Please inform us if you do Real-Time reporting.
Jennifer Vise, Clerk of the Board
Office:
633 Washington Street - Room 12
Red Bluff, CA 96080
Mailing Address: PO Box 250
Red Bluff, CA 96080

(530) 527-3287
Fax (530) 527-1745, alternate Fax (530) 527-1140
Office Hours - 8 a.m.- 12:00 p.m., and 1:00 p.m. to 5 p.m.
Monday through Friday
Function
As a division of the Clerk and Recorder's Office, the County Clerk serves as the Ex-officio Clerk of the Board. The principal responsibilities of this division are to prepare and post the agenda for the Board of Supervisors' weekly public meetings and to publish and maintain all records of those proceedings. This office maintains the roster of the various committees and commissions that the Board has appointing authority for, and is responsible for posting the County's Annual Appointment List. The Clerk of the Board of Supervisors' serves as the custodian of the public records for the Tehama County Board of Supervisors.
Responsibilities:
Useful Links:
Jennifer Vise, Clerk-Recorder
Office: 633 Washington Street - Room 11
Red Bluff, CA 96080
Mailing Address:
PO Box 250
Red Bluff, CA 96080

Phone (530) 527-3350
Fax (530) 527-1745, Alt Fax (530) 527-1140

email: This email address is being protected from spambots. You need JavaScript enabled to view it.
Office Hours - 8 a.m. to 5 p.m.
(CLOSED 12:00-1:00 FOR LUNCH)
Monday through Friday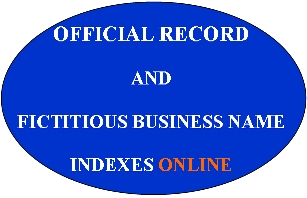 Effective January 1, 2018, a new Affordable Housing Fee may increase the cost of recording your Document by $75.00.
Please see the attached NOTICE for more information or call our office at 530-527-3350
Effective April 1, 2018, per Ordinance No. 2050, the Tehama County Clerk & Recorder's Office will be increasing certain fees.
Please see the attached NOTICE for more information or call our office at 530-527-3350
Effective January 1, 2008, Section 1798.89 of the Civil Code is added to read: unless otherwise required to do so by state or federal law, no person, entity or government agency shall present for recording of filing with a county recorder a document that is required by any provision of law to be open to the public if that record displays more than the last four digits of a social security number.
Recorder
Recording Documents
Liens
Official Land records
Birth, Marriage & Death Certificates
Certified Copies of Military Discharge Record (DD 214)
County Clerk
Fictitious Business Names
Marriage Licenses
Name Equality Act
Wedding Ceremonies
Deputy Marriage Commissioner For a Day
More Articles ...